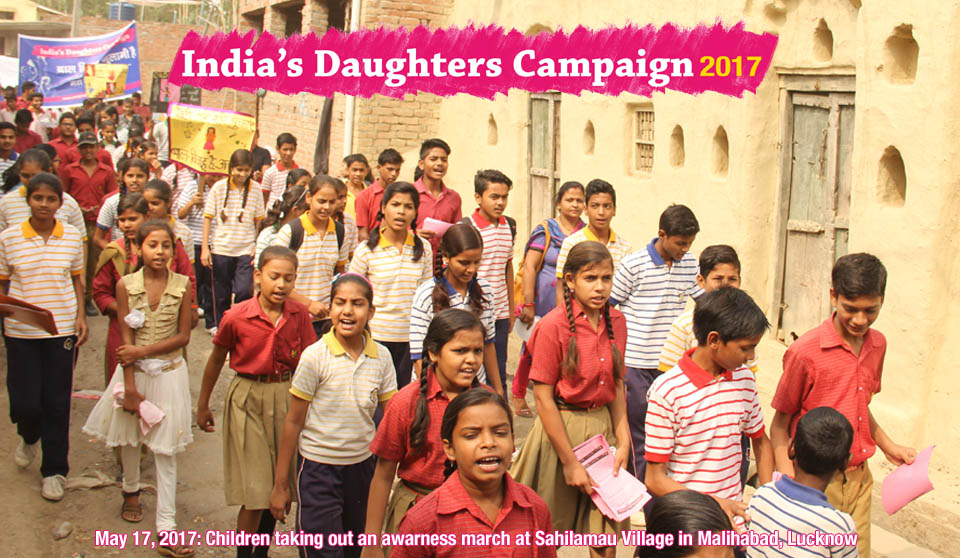 ---
---
---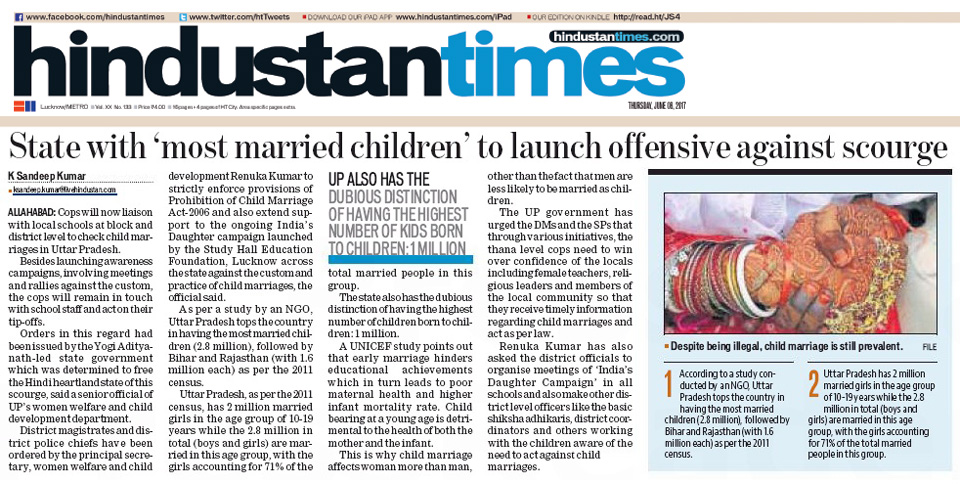 ---
---
Street play, signature campaign main highlights of the awareness march taken out by Vidyasthali children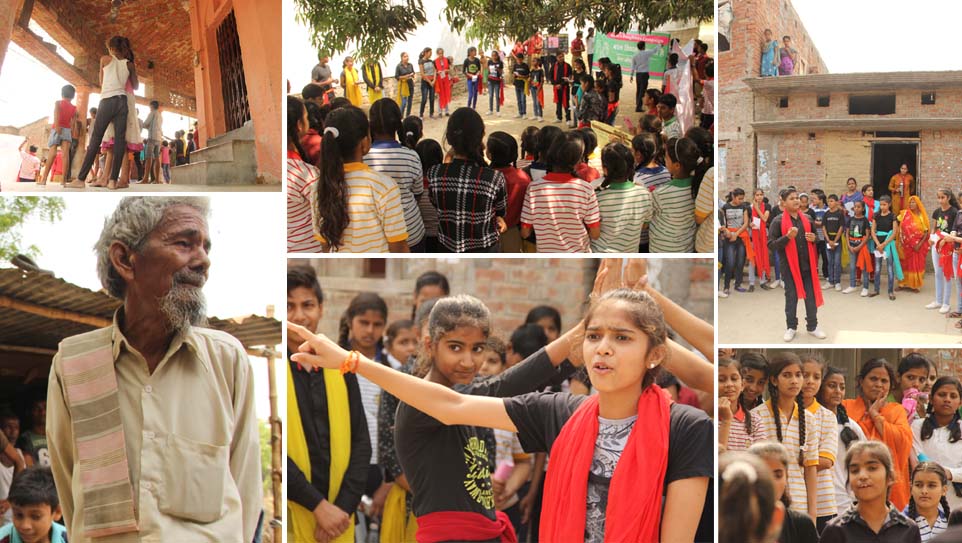 Taking India's Daughters Campaign 2017 to the rural areas of Lucknow, the Study Hall Educational Foundation's Vidyashali School in Mahilabad organized an Awareness March against child marriage on May 17, 2017. The students of Vidyasthali participated in the march which started from the school and covered thoroughfare areas neighbouring village Saliamau. A street play – Bal Vivah Ghulami Hai - against child marriage was also stage at four different locations during the match.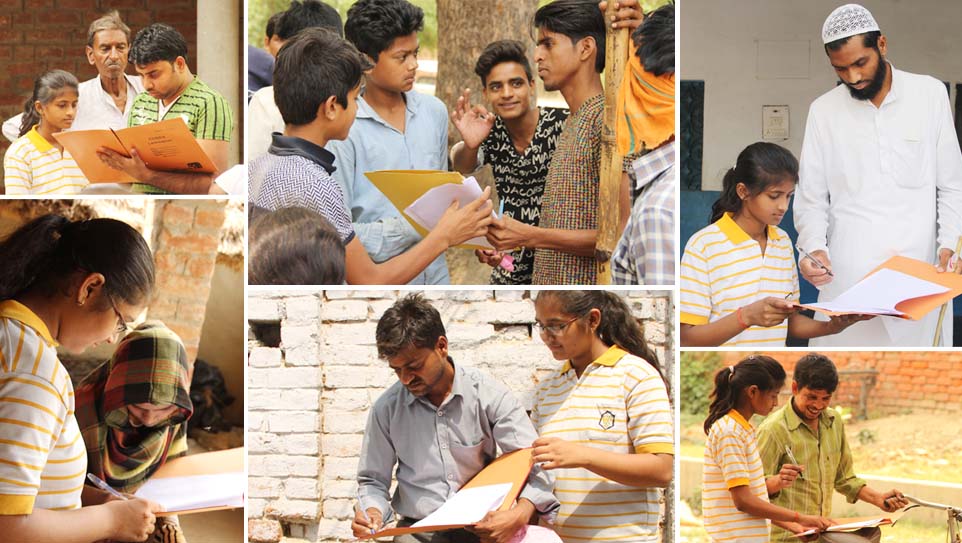 Over 200 community members signed the petition against child marriage as part of the signature campaign. This awareness march was preceded by a series of critical dialogues with the Vidyasthali students to build a deeper understanding of the detrimental social norms and to question malpractices like child marriage. Post this discussion children prepared placards and banners to take out in the community and also drafted the script for the street play which was staged during the march. The procession made stops at local mosques and temples collected signatures of Faith Leaders on a pledge against child marriage.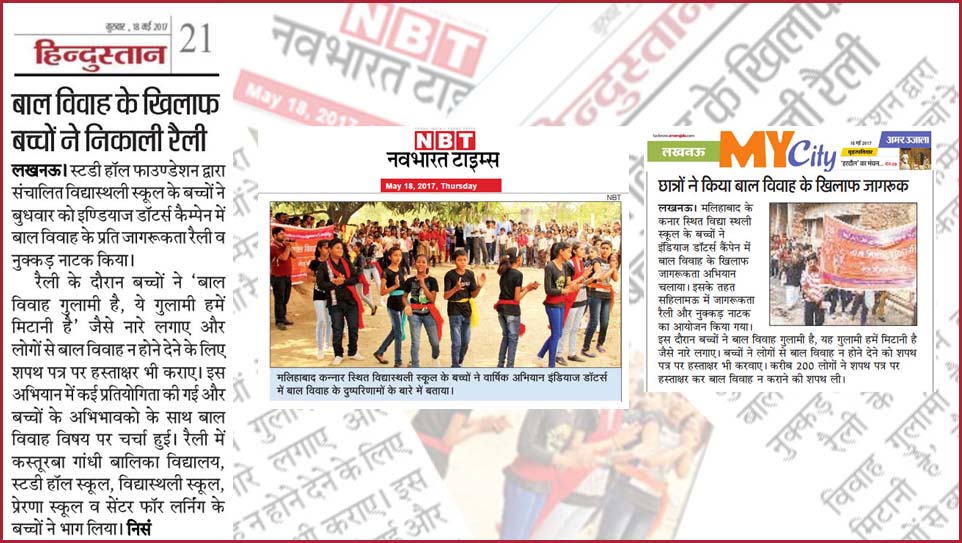 ---
---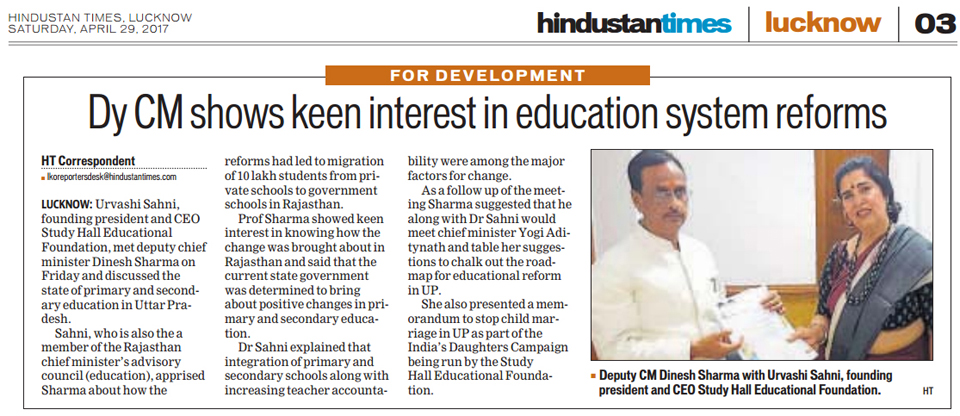 ---
---
India's Daughters Campaign against child marriage launched with a rally


The Study Hall Educational Foundation organized an awareness march against child marriage to launch its 5th India's Daughters Campaign 2017 on April 1, 2017. With over 200 participants the rally started from Gandhi Pratima in Hazaratganj and moved towards Jawahar Bhawan. Students Prerna Girls School , 8 Kasturba Gandhi Balika Vidyalaya, Study Hall School, Vidyasthali and GyanSetu participated in the rally. As a follow-up a memorandum against child marriage was given to the chief minister and the governor.




Naheed from Prayatna (NGO) said that this is a very good attempt to draw the attention of the crowd towards a very sensitive issue. Dr Sahni added to her voice saying the onus is now on the state government to take this issue forward. Mahant Diya Giri of Mankamneshwar Temple also spoke on the occasion and said the since the inception of the law against child marriage not a lot has changed and one of the major reasons for child marriage is illiteracy and lack of strict implementation of the law. A Nukkad Natak titled Bal Vivah Ghulami Hai was also staged on the issue. 5 child marriage survivors also participated in the event. One of the child marriage survivor Fatima Khatoon (name changed) said that had my teachers not saved me from the child marriage I would not had two kids by now and I would not be supporting my family through a job.




Mamta Singh, Humsafar, Neha Naidu, UNICEF, Swarnima Singh, Suraksha, Chhavi Jain, Suraksha, Naheed Aqueel, Prayatna, Shaista Ambar, All India Muslim Women Personal Law Board, Mohd. Idrees Ambar, All India Muslim Women Personal Law Board, Prof Nishi Pandey, Lucknow University, Rakhee Panjwani, Principal Prerna Girls School, Kahkashaw Parween, Mahila Samakhya, Shubhagi, AALI, Jagdish Gupta, Mankamneshwar Math, Akhilesh Tiwari, Sarathi, Shipra Jha, Girls Not Brides, Neelofer Khan, Uttar Pradesh Police Mahila Samman Prakoshtha, J Ram, Social Welfare Department, Government of Uttar Pradesh , Swarnima Singh, Suraksha, Lucknow, Chhavi Jain, Suraksha, Lucknow, Prof Nishi Pandey, Institute of Women's Studies, Lucknow University , Aftab Mohammad, CP Specialist. UNICEF, Shachi Sharma, Sahayog India, Deepika, Sahayog India and Ibrahim, Nadwa (Muslim Education Institution) also lent their voice to the rally.


---
---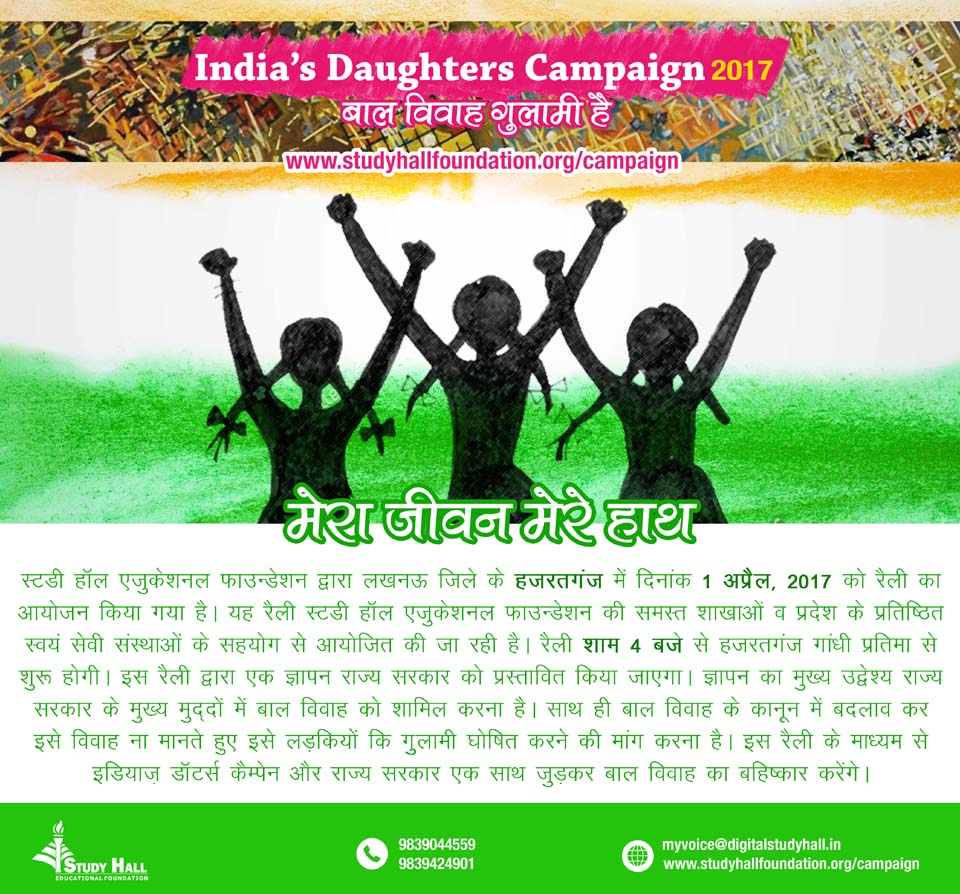 Dr Urvashi Sahni
President and CEO, Study Hall Educational Foundation
---
There are 10 million child brides in the world and one-third of those are in India! Child marriage is one of the greatest threats to a girl's life and liberty. We should stop euphemising it's horror and sanctifying it by calling it "marriage". We should call it 'girl slavery' which far more appropriately describes what child marriage does. It enslaves a girl physically, sexually, psychologically and emotionally and does her enormous harm. Her education is truncated, her immature body is weakened and rendered ill, by early and repeated childbirth. Young and afraid, she is unable to offer any resistance to oppressive and abusive in-laws and husband. Even before she embarks upon it, she loses all control over her life!

Even though the Indian legal system outlaws the marriage of a girl before the age of 18, society especially in rural areas, not only sanctions it but actively promotes and encourages it by creating peer pressure to marry off young girls. Many people maintain that they are under tremendous pressure by society to marry their girls as soon after they reach puberty. Marrying girls young is perceived as a way of settling them, keeping them safe and chaste and in control. Social norms in India, do not allow girls to be autonomous equal persons with the right to live life to its full potential. At Study Hall Educational Foundation(SHEF), we have been working for girls' right to live as equal, autonomous persons worthy of respect for several years. This initiative started at our Prerna Girls Schools through critical feminist pedagogy. Later, in the year 2011 girls education and empowerment initiative, Aarohini was founded to strengthen government schools with gender studies curriculum. Over 1000 schools are touched by the Aarohini Initiative across India.

This year we are campaigning specifically against child marriage in all our partner schools, families, communities and the government. We begin our campaign with this web campaign and invite you to join us in our fight against child marriage in India. We look forward to receiving your articles, messages and entries of any kind which will encourage our students and their parents to say NO TO CHILD MARRIAGE/GIRL SLAVERY!

Thank you!


---