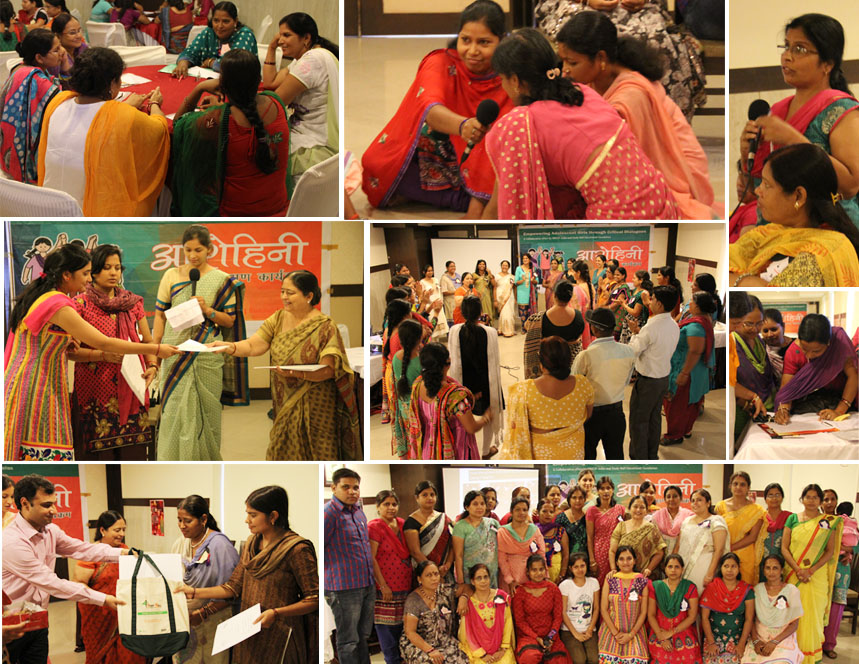 Study Hall Educational Foundation in collaboration with UNICEF has under taken an initiative to empower girls enrolled in Kasturba Gandhi Balika Vidyalaya(KGBV) at Rampur and Budaun district. The program was initiated with a 2 day long residential training for 25 KGBV teachers from Rampur and Budaun district. Two batches of KGBV teachers were trained through 8th September 2014 to 11th September 2014. The prime focus of the training was to enable teachers to conduct dialogues with their students that are contextual to student's life issues. The training also focused on how to resolve students' life issues and elaborated on the legal intricacies that need attention in severe cases.
Two teachers from each KGBV were invited along with local community members such as members from local nonprofits, child welfare committee members and members of Police Department. These community members are now part of KGBV teacher's network and shall now be in touch with the KGBV teachers for resolution of severe cases of abuse and violence. The trainers drew incidents from personal lives where they had faced oppression and discrimination and mapped them to situation of girls and women in our country as reflected in the latest reports. It was an attempt to inspire teachers to dream of a different and gender neutral future for their students.
Drama and Role Play are best tools for initiating dialogues. They are a great help for sending a complex message across. Role play and Drama is an integral part of these student teacher dialogues. The training dedicated a session for teachers to develop a short issue based drama. The session was immediately followed by a in depth discussion on using drama as a tool to communicate to parents on sensitive issues.
Trainer shared the design of the 'Empowerment Toolkit' that was developed and tested at Prerna Girls School. Trainers clearly defined the definition of much used and theorized word 'Empowerment'. The trainers elaborated that empowerment is becoming aware of one's oppression, understanding and analyzing the causes of oppression and taking action to overcome.
An important addition to the training was a session on superstition and how it has restricted personal freedom of women and girls for ages. The session on superstition compelled the teachers to think deeply about how many superstitions have deeper gender specific rules. However, the trainers did discourage all superstitious practices.
KGBV teachers now have a new role to play at their schools. They are now advocates of the girls' rights. To help them brave this new challenge they were equipped with literature that elaborates on legal girl rights, digital media to initiate student teacher dialogues, posters & planners to stay the course and a support from Study Hall Educational Foundation to fight the battle shoulder to shoulder.