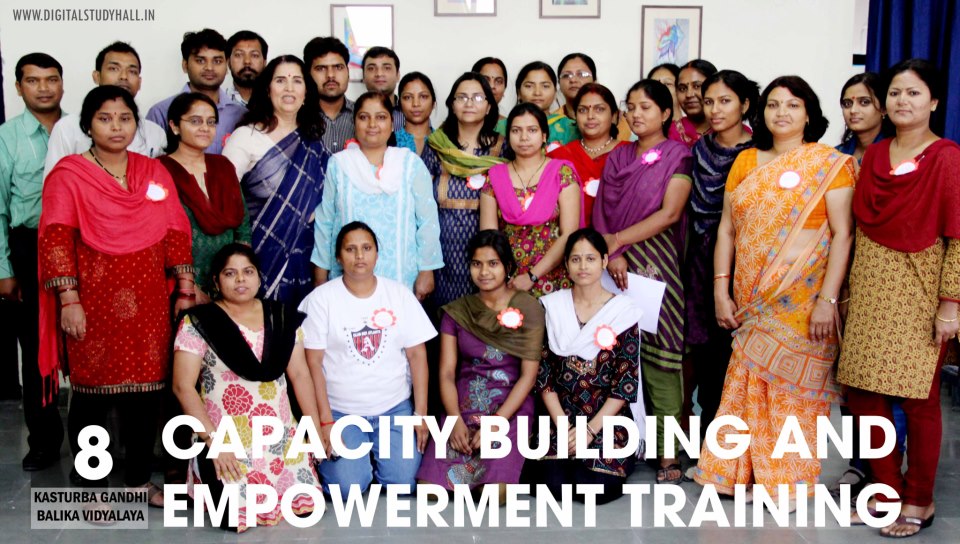 Expanding the outreach of the Girls' Empowerment Program, DSH inducted 5 more KGBVs (Chinhat, Gussaiganj, Bakshi Ka Talab, Sarojini Nagar, Mohanlalganj) in district Lucknow. Now all 8 KGBVs in Lucknow are part of the DSH Network. Two day's training was organized in Lucknow recently. First day of the training was dedicated to Academic program. A comprehensive Critical Dialogue and Gender Sensitization workshop was conducted on the second day.
Training started with an overview of DSH and recording Pre Training Analysis Forms. First session was conducted by English Model Teacher who explained in detail the principals of language acquisition and methods of teaching English as a second language. After an energizer game and an inspirational song, a DSH Science Lesson was played highlighting activity based learning. In next session, participants engaged in a group activity to point out the qualities of a good teacher. The participants were distributed in six groups and they listed the unique qualities. Thereafter, model teacher for Mathematics discussed the anxieties and fear attached to the subject and why students consider it a difficult subject. There are still a considerably low number of girls opting for science subjects particularly due to Mathematics.
In the next group activity, participants were asked to prepare a lesson plan summing up the learning from the previous sessions. Each group presented their lesson plans to the experts who helped them identify the areas of improvements. At the end, participants were directed to work on their lesson plan according to the assessment and come up with the revision.
Second day of the training started with the presentation of improved lesson plans. The President of the Study Hall Educational Foundation made a presentation on the status of girls in India and shared some shocking statistics. She explained the meaning and need of women empowerment. Participants learned about the critical pedagogy practiced at Prerna Girls School and how girls are being empowered to fight social injustice and gender based inequalities. The gender experts discussed different forms of oppression and practices which lead to social evils like domestic violence and child marriage. After the screening of a Critical Dialogue and following discussion, participants found a better understanding of gender issues and need of addressing them at the school level. Participants were given a overview of the existing laws related to women and ways to seek help.
In the final session of the training, the participants formed four groups and each group prepared a playlet based on a gender issue. Women specific issues chosen by the participant's were child marriage, dishonor, domestic violence and right to decision. Gender Training ended with getting all the applicants fill the Post Training Analysis form which recorded the participants' feedback and assessed the understanding developed by the training.