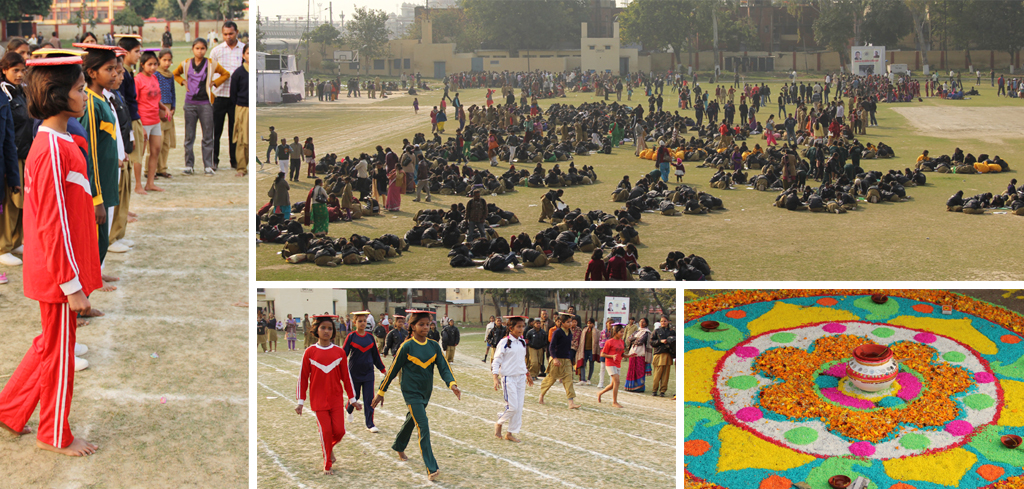 Annual Athletic and Cultural meet of the Lucknow district KGBVs was held at the Northern Railway stadium, Charbagh on 17th and 18th February, 2014. DSH has been closely connected to the KGBVs while running it's Arohini and Jan Jagriti programmes and has been supporting these schools in their various academic and co- curricular activities.
The DSH team was present in full strength to witness the event on both days, right from the opening ceremony to the finale'. DSH sponsored four competitions—debate, rangoli, painting and a balancing race. Debate was conducted on the second day while the other three took place on the 17th. Since DSH was going to organize a rally on the 20th against child marriage, the topic of the painting completion was "child Marriage". DSH provided the paper and colours to all the 800 girls and it was so touching to see the girls sitting in huge circles on the field and translating their feelings into paintings. Each school made a rangoli in front of the stall allotted to it and the three prize winners were truly worthy of their positions. The BSA liked the race because the girls walking with a book and a plate balanced on their heads symbolized a balance between home and education.
All the prizes were distributed during the closing ceremony.